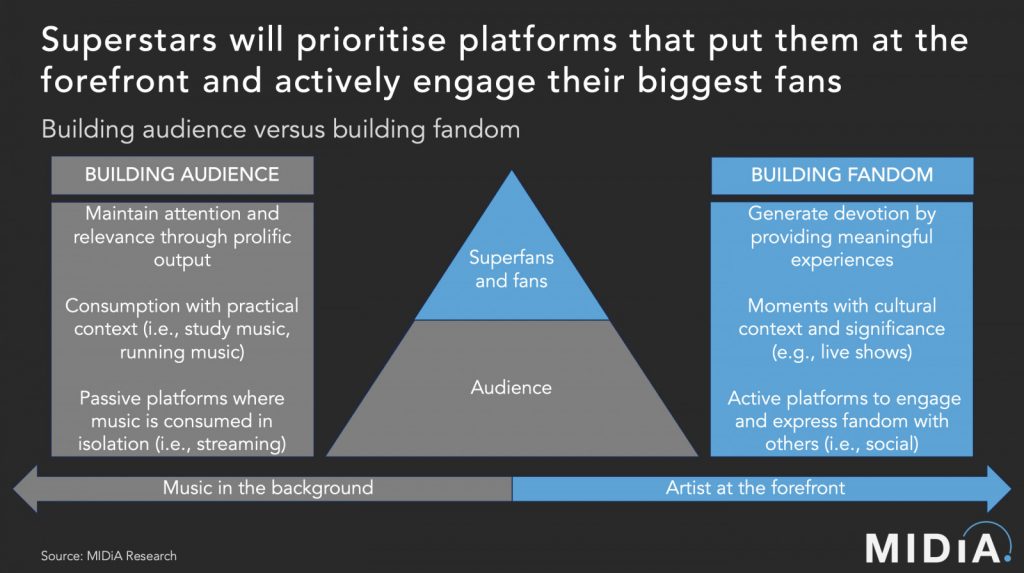 Reposted from midiaresearch.com October 17, 2023 article
In the modern music industry, a near constant supply of music is expected to succeed on streaming platforms. Drake is one of the best examples of this: since 2015 he has released an album every year, in addition to two collaborative albums, adding up to 200 tracks. That amounts to a new track every 16 days for more than 8 years, not including any other non-album singles or collaborations.
Whilst this velocity of output has built a huge audience, it is hard for fans to get excited about the norm and superstars know it. That is why, when it comes to creating moments to engage and excite their biggest fans, superstars are going anywhere but streaming.
Superfans want more than streams
Superstars such as Drake, Taylor Swift, and SZA are engaging their biggest fans outside of music streaming platforms. Drake initially released '8am in Charlotte' on his Instagram, enabling fans, collaborators, and other superstars to comment and engage. Taylor Swift released a tour film that has taken over $100m in cinema ticket pre-sales. Finally, SZA Tweeted / X'd about doing an 'intimate tour' in the cities she felt were the most devoted based on how engaged they were on her tour (i.e., not necessarily where her streaming dashboard said they were most engaged).
Streaming asks artists to release music but asks very little of fans beyond follows and playlist adds. Superstar artists have super-fanbases and the engagement that superfans provide has been underutilised in the streaming era. Superstars are going elsewhere to create moments for their biggest fans and streaming platforms might not ever be able to win them back.
Whether it is releasing music on Instagram, selling cinema tickets, or performing live, superstar artists get the most value out of superfans when they engage more deeply with them. Active engagement and the opportunity to connect with other fans are the foundations of formats that enable super-fandom.
However, in music streaming, there is not a lot to encourage fans to listen to music and consume it actively. Superstars do not expect to be background music and when fanbases reach the scale of super-fanbases, your fandom is established by how active you are as a fan. If music is too easily pushed into the background, superstars will go to places where their fans can be more than listeners.
Identity is fundamental to music
Out of all entertainment formats, music is the most fundamental building block of identity for consumers. However, while music streaming services are places where we house our music, social is where many people house their identity. This is why MIDiA's consumer surveys have consistently shown that even music superfans spend more time on social and video platforms than on music streaming services.
For superfans, it simply makes more sense for music to live in a place and in a format where identity also resides. Moments that help form our identity do not happen in the background, they happen right in front of our face.
Streaming is changing, but Spotify's potential new features in their reported 'Supremium' tier are still focused on improving the background experience with speculated new features like higher quality audio and automated AI playlist generation. Until streaming services provide more ways for superfans to be active, the superstars they follow will find other places to connect with them.
Click here for the source article