Greetings from the Creádo® Team.
First off, I want to thank the thousands of new subscribers who have joined us in recent months. We welcome each of you to the Creádo® family and we hope you find our information moving forward useful in understanding the entertainment industry and the solutions our team are developing to change the game forever.
A brief background since we have a new audience. Creádo® was established by a team of Entertainment, Media and Radio industry veterans, dedicated to building a new entertainment ecosystem that puts artists and consumers back in control. We initially launched a few years ago with a four-part plan which included technology, social, distribution and original content. While the plan was great, the economy was not. During the first quarter of 2023, we spent about three months scaling back the master plan in to a pilot technology that focuses on a more simple, to-market strategy for one-fifth the original amount of capital needed.
After you finish reading the newsletter we invite you to listen (55 mins) to our Twitter Space from 8/8/23. We brought together many of our founders to discuss our vision. We were at the mercy of Twitter's poor audio quality, but this 'podcast' brings together several of our partners in one space, discussing culture, Hollywood, the music industry, the podcast world and emerging technology. You will get good insight and hear from many of our team members for the first time. Forgive the rough pilot Episode, we have more coming soon with controlled production. Click the image below to launch the podcast, which was uploaded to Rumble.

But don't go yet!
I titled this email "timing is everything" because we now believe we were a little ahead of the curve and tried to do too much, too soon in a bad economy. Investors had yet to see the landscape evolve and truly understand the importance and uniqueness of what our team at Creádo® was building. We have also been working diligently with advisors to present the company in a way that investors can understand. As artists, we see things through our lens, but it doesn't often translate into simple messaging for investors. This has changed.
The extended development time has also given us some vital insights while watching the market unfold. We learned two major lessons during this journey.
One, while we were always rightfully identifying the need to focus on changing culture as a whole, the market has shown us that building anything based solely on politics doesn't improve the discourse as a nation. You cannot fix a polarized society with more politics.
Second, we watched as billions of investment dollars were dumped in to Web 3 projects and blockchain technology. As Steve Jobs once said, "you have to start with the customer needs first, then work your way back to the technology. You can have the best technology in the world, but if you don't have a customer base that can scale to sell millions of products, it's useless." Once FTX, Silicon Valley Bank and others closed down, over 500 of those startups lost everything, including the investor money. While the push to decentralize in this new counter-culture "creator economy" has merit, you cannot roll the dice on something new and expect a majority of your target audience to adopt technology in its infancy.
As fiduciaries to our investors and our customers, we must design products that can be easily adopted and available to a wide customer base. This doesn't mean cutting corners, it means coming up with smarter ways to do things that can be scaled quickly.
The Latest From Hollywood
Most of our long time supporters know our team and our colleague Nick Searcy have been predicting Hollywood's implosion for years. This recent strike just adds fuel to the fire. The studios will do anything to reduce costs by infusing AI likeness of major actors. While the writers just want a fair shake, the studios will never give up their profits or share the wealth, which ironically come solely off the backs of the talented writers and the stories they create for them. There is a large disconnect from reality in Hollywood, and the emergence of new independent studios will rise and with your help Creádo® will be a big part of that future!
Over the last month or two we've had several studio executive friends reach out to check in on where we were with Creádo®. They all echoed the same thing, "Hollywood is never coming back to the way it was pre-COVID." So while it may take us a little time to build an audience capable of accommodating blockbuster features, knowing there is an option being built for at least independent filmmakers is huge. Creádo® will be the only platform on the market that will deliver film, music, comedy, podcasts and other creative ideas together in one location.  
Excitement Moving Forward
The good news is, the momentum is shifting. Eliminating all political messaging has opened up the doors for us to introduce Creádo® to many of our high-level friends in Hollywood and the music industry. While we may not vote the same way, we all found commonality in the fact the current system is broken and that nobody is addressing the entertainment industry as a whole.
As a result, we have secured commitments from several Grammy Award winning musicians who will come on board as advisors and a couple have committed to investing. We have other big connections being made with the addition our newest partner to the team.
We are pleased to announce that legendary Radio DJ and music industry veteran Michael Halloran has officially joined our team as a partner after serving as a music advisor previously. Halloran brings over 30 years in radio, music and talent development. He launched his career at WDET in Detroit in the eighties before moving to California as a DJ and later program director of the famous alternative rock station 91X in San Diego. He discovered many young artists including Jewel, Jason Mraz, Blink 182 and POD just to name a few. He will oversee the music division and bring his unparalleled wisdom, contacts and credibility that will help us fortify additional relationships moving forward.
This is a big win for the team and will open so many new doors to other artists and investors.
Speaking of investors. I'd be remissed if I didn't thank our tremendous investors who have held strong to date. Without you, we would be nowhere. We feel stronger now about what we are building and the support is growing each day.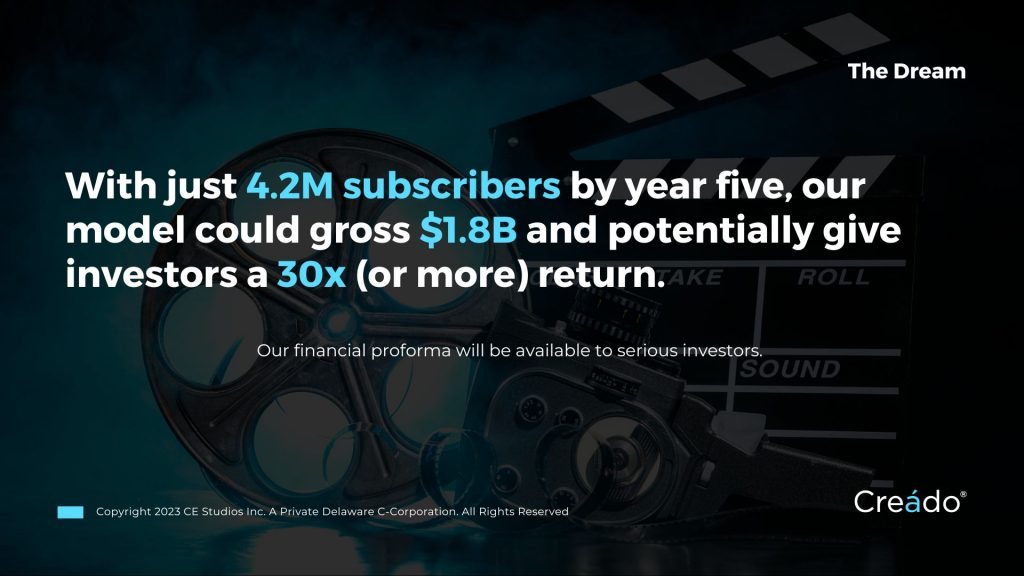 Above is the dream slide from our new pitch deck. While 4.2 million subscribers in year five doesn't seem like that many subscribers, it would be very successful for our investors. With the addition of Grammy Award winning advisors, one of their own channels alone could surpass that in subscribers. This is why we are excited for our investors and our customers.
So it's all hands on deck now to finish this mission and get to market. We have been setting up appointments with accredited investors and we need your help to spread the word. Our target raise is still capped at $6M total in this seed round, which will give us 9 months of runway to finish developing the pilot technology and bring a beta version to market. The goal is to onboard 500K subscribers in the first three months.
If you would like to learn more, visit our investor page on our website or email us directly to receive our brand new pitch deck and more details.
We truly appreciate all of your patience and understanding and for the continued support throughout this mission.
Stay tuned for more podcasts, which we are in the process of recording now.
Together we can finish the mission and bring "The Future of Entertainment" to Creádo®.
Stay tuned.
Best,
Jason Lehr
President/Chairman
CE Studios Inc